Ultimate tool for iOS developers and writers: our professional code and text editor. With its advanced features and user-friendly interface, you can easily create, edit, and manage your code, as well as take notes on the go. Whether you're working on a new project, reviewing code, or writing down ideas, our editor is the perfect solution for all your needs.
Universal iOS code and text editor that is optimized for your iPhone, iPad, and iPad Pro. Our lightning-fast user interface ensures seamless navigation and effortless editing. Whether you're a seasoned developer or just getting started, our versatile editor allows you to create, modify, and manage code and text with ease. Upgrade your mobile editing experience today.
Experience the beauty of our native iOS code and text editor, designed to seamlessly blend in with your device's look and feel. Our editor also offers a high degree of customization, with customizable fonts and font sizes to ensure your editing experience is tailored to your needs. Plus, choose from multiple themes to suit your style and preferences. Enjoy the perfect balance of form and function with our sleek and intuitive editor.
Perfect code and text editor for iOS
Transform your iOS device into a powerful tool and start getting things done with ease.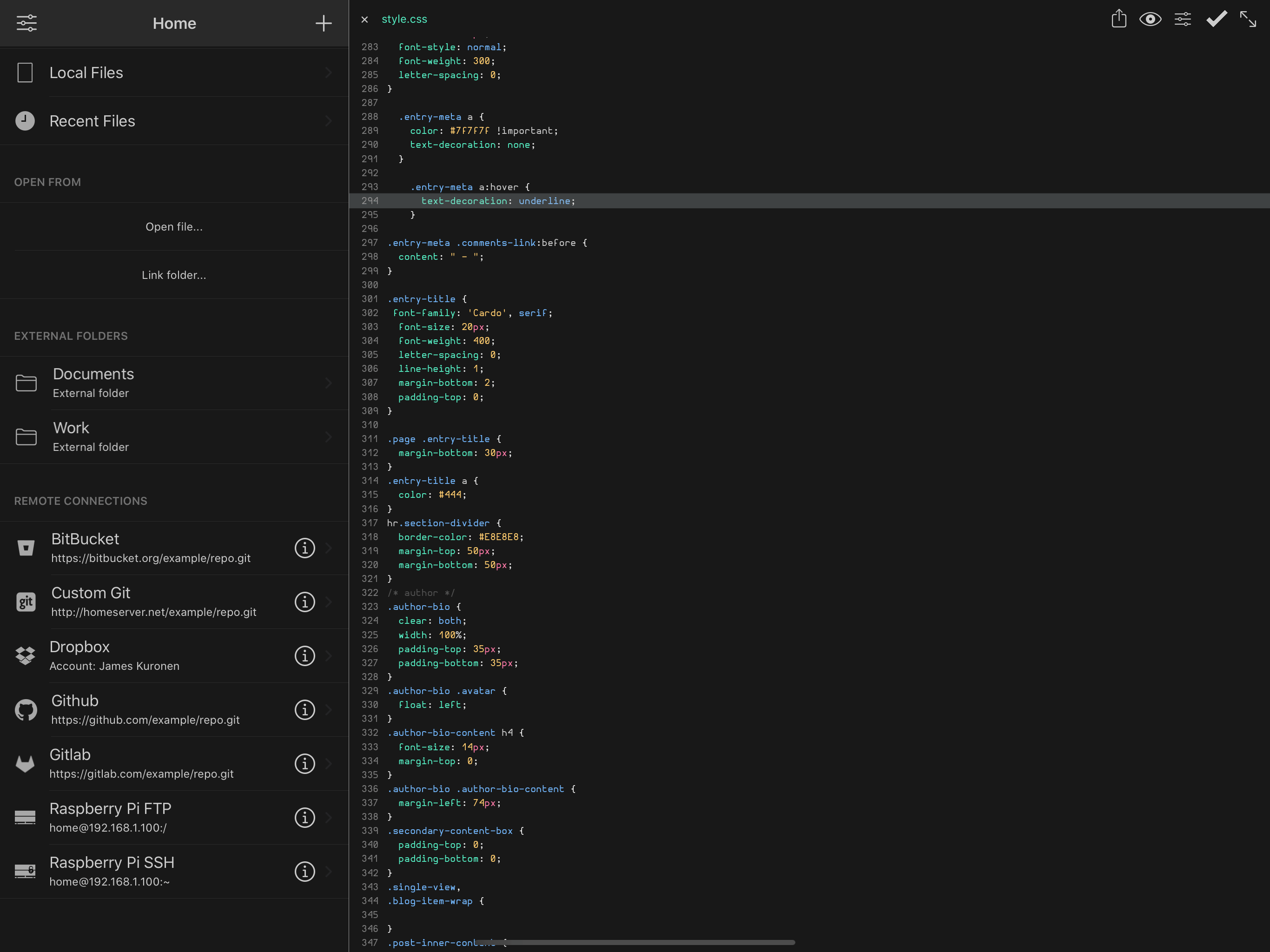 Unlimited connections to a range of remote services, including BitBucket, Github, GitLab, Custom Git, Dropbox, iCloud, Google Drive, SFTP, SSH, and FTP.
Seamless integration with iOS Files, allowing you to access any files supported by the iOS Files app, link external folders, and open multiple files at once.
Compatibility with files from any cloud provider supported by iOS Files, providing maximum flexibility.
Stay connected and productive, no matter where your work takes you, with our iOS code and text editor.
Personalize your workspace with your choice of dark and light themes, and select from a variety of fonts to ensure optimal readability.
Plus, easily adjust the editor's settings to suit your preferences and workflow.
Make the most of your editing experience with a tool that adapts to your unique style.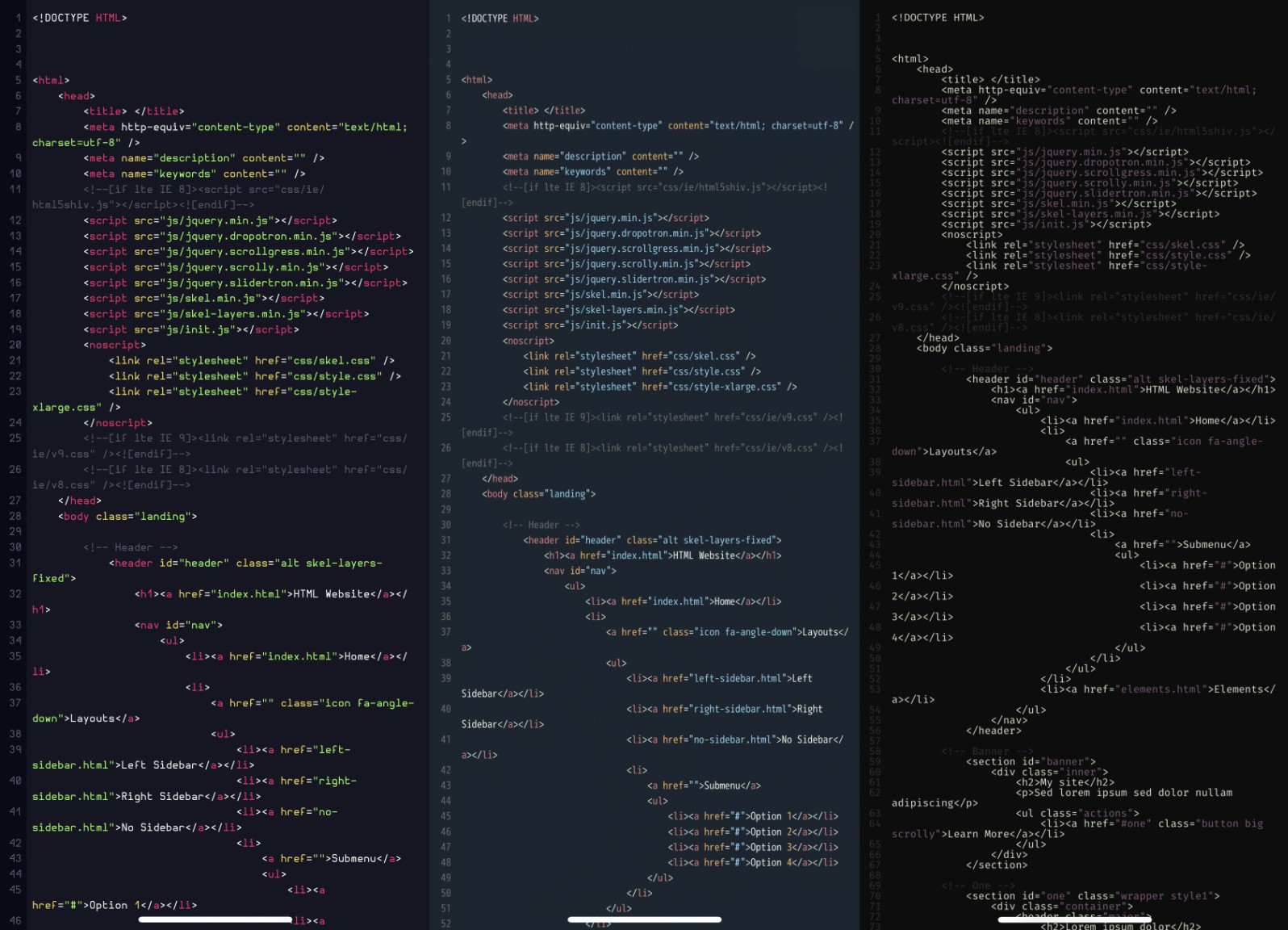 Tabs that allow you to quickly switch between your open files and keep your workspace organized.
Multiple windows, split view, and slide over support, providing enhanced multitasking capabilities.
Live editing functionality that enables you to open a file, make edits, and save changes, all within the same interface. Plus, easily upload and download files as needed.
Full external keyboard support, giving you the flexibility to work on your iOS device just as you would on a desktop computer.
Enjoy an editing experience that is both versatile and intuitive, and take your productivity to the next level.
The ability to open multiple terminals in tabs, allowing you to work on multiple projects simultaneously.
An intuitive interface that makes it easy to access and control your terminal windows.
Take your coding and development to the next level with our comprehensive terminal functionality, and enjoy unparalleled control and efficiency over your projects.
Split view editing that lets you code and preview your website side-by-side, ensuring that your changes look great before going live.
The ability to preview your website either on your locally or on your server, providing maximum flexibility and convenience.
Make the most of your web development experience and take your websites to the next level.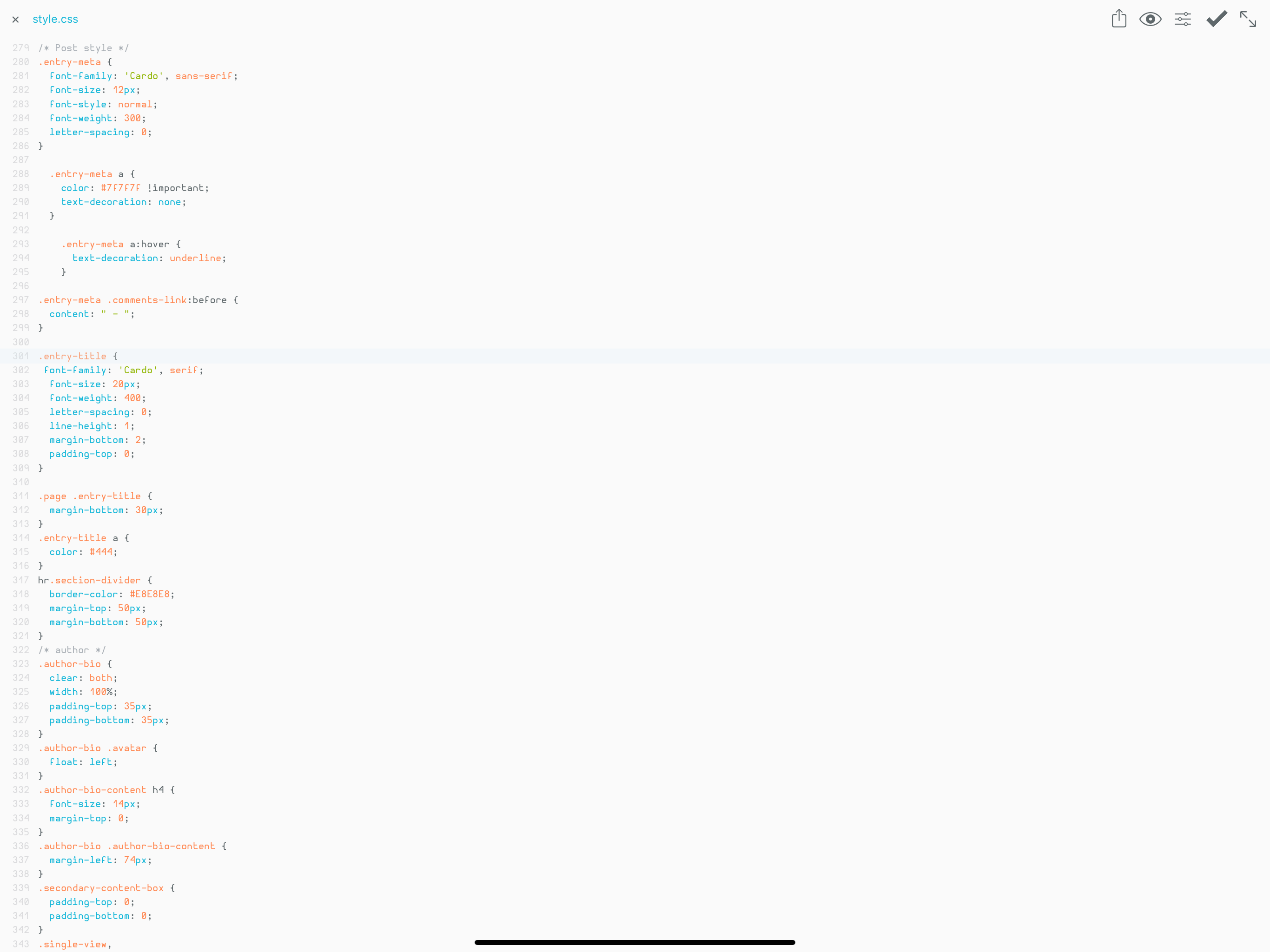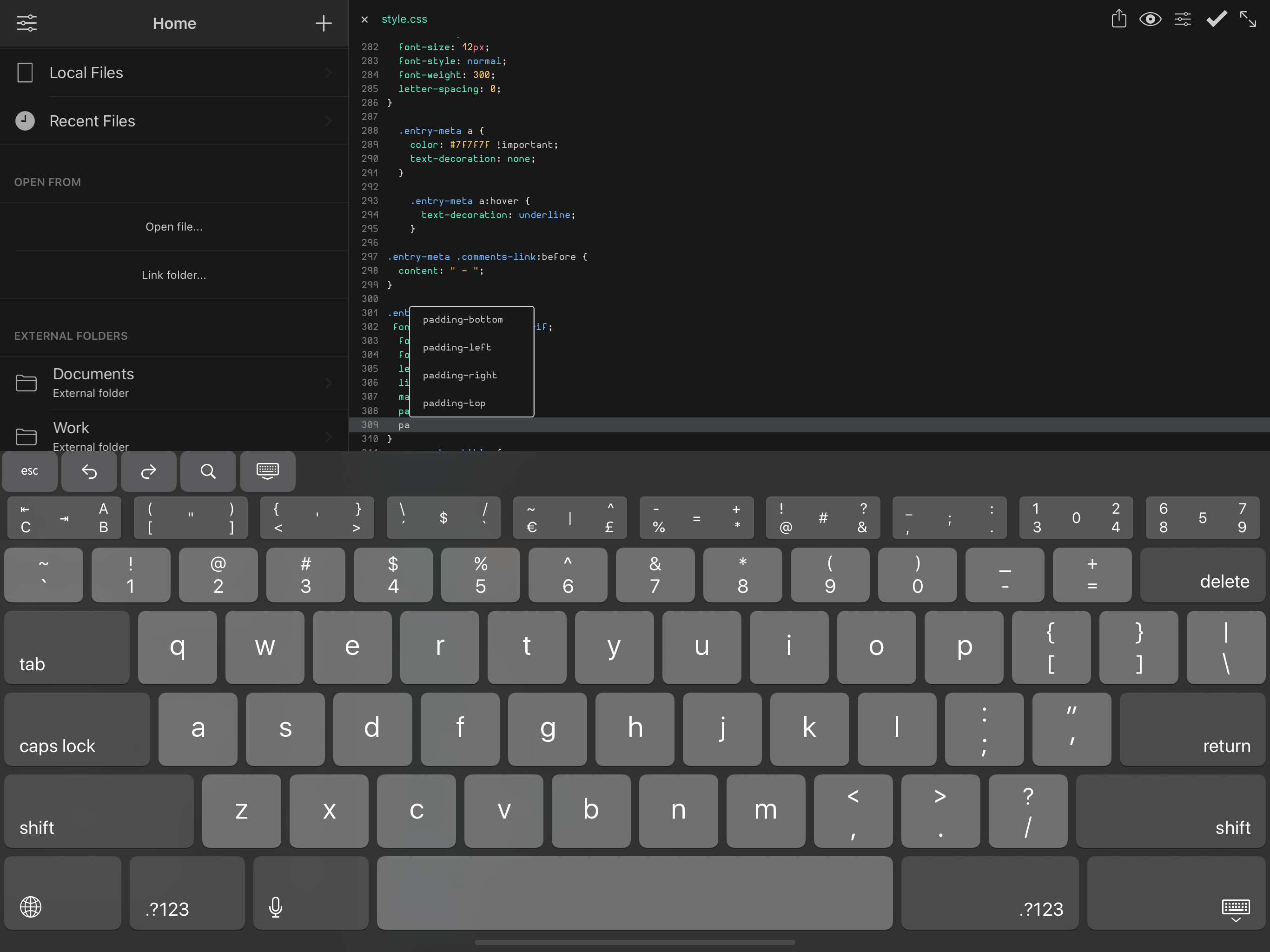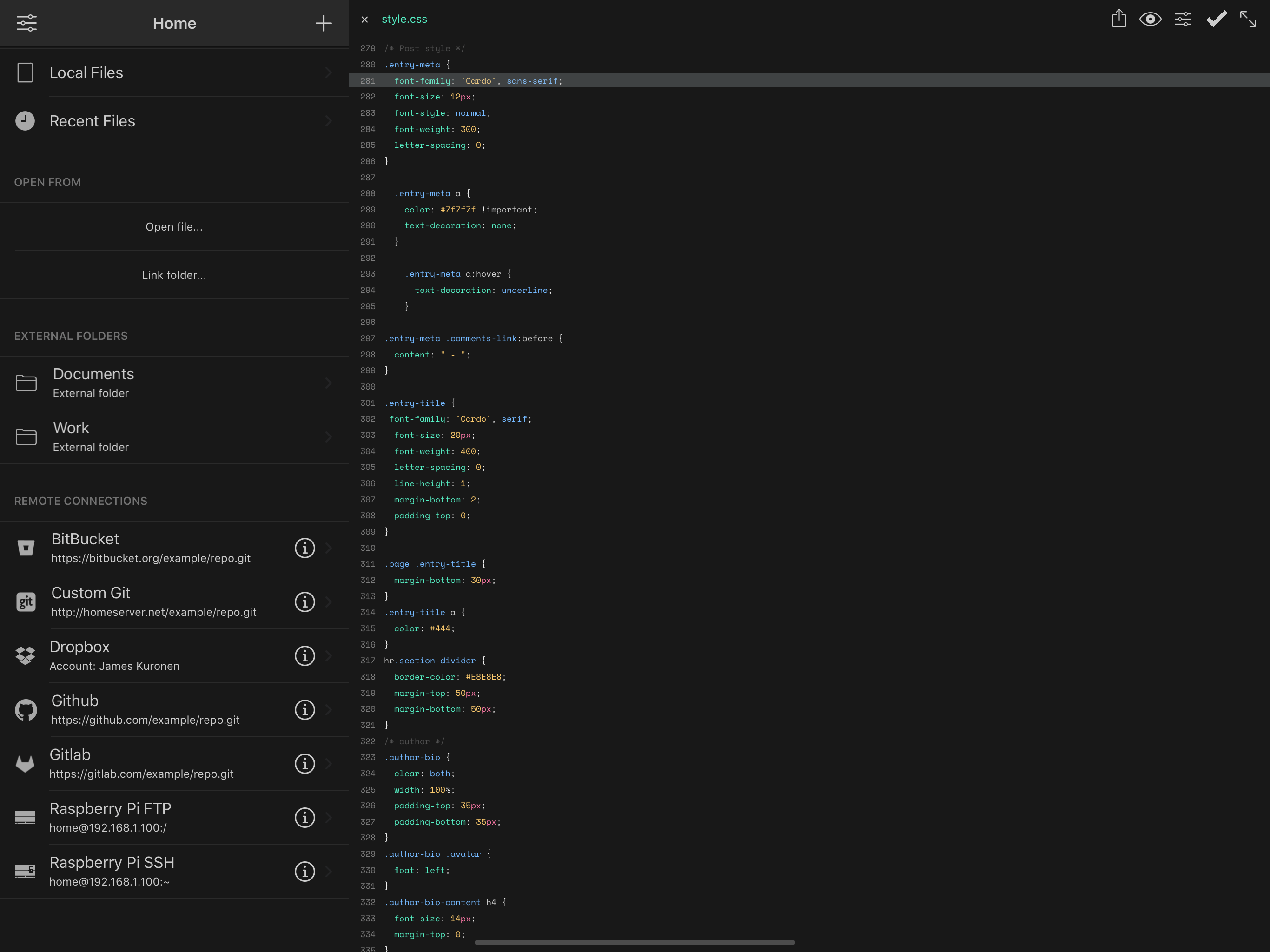 Techworld
Buffer Editor is a code editor app that can connect with numerous remote services such as Dropbox, Google Drive, Git, iCloud, SSH, SFTP and FTP servers.

If coding on the go is your thing, this is a great option for iOS devices. It's designed to make it easy to make quick changes to your website and will sync with Dropbox and SSH/SFTP servers.
Buffer Editor is excellent choice. It's ideal for code and text and makes it easy to write and review code.
Love the app, syntax highlighting looks great and built in integration to GitHub is nice.

I've found myself using Buffer as my default editor. The Vim bindings are a godsend.

Top VIM-like editor for iOS. Strong support for VIM commands, thoughtfully designed keyboard expansion, and reliable syncing with FTP/Dropbox. This is well worth the price.